Úvodná Stránka › Aký javorový sirup kúpiť?
Aký javorový sirup kúpiť?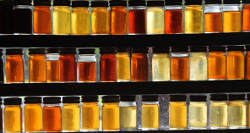 V prvom rade, ak kúpite inde ako u nás (čo Vám neodporúčame 🙂 )  kúpte si výhradne pravý javorový sirup! Ako spoznať pravý sirup ? Niekedy ťažko, ale pravý originálny sirup má svoju hodnotu, ktorá je určená tým, že pravý sirup pochádza výhradne z Kanady alebo USA a na výrobu 1 litra sa použije až 40 litrov javorovej miazgy. Sirup musí byť riadne zabalený, obal musí obsahovať zloženie, teda iba čistý ,,pure,, javorový sirup, nutričné ​​hodnoty, živiny, záručnú dobu, krajinu pôvodu. Tiež je väčšia záruka kvality, keď je sirup značkový v originálnom obale z Kanady, ako sirupy dovezené v sudoch do EÚ a tu prelievané a prebaľované. Sirupy predávané za polovicu bežnej ceny pravého sirupu, označované ako ,,Pancake syrup,, alebo ,,obsahuje javorový sirup,,contains maple syrup,, sú sirupy z lacného kukuričného sirupu, ochutené často chemickou aromatickou prísadou tzv. Sotolon, imitujúcu chuť javorového sirupu. Aj v Slovenských supermarketoch sú v predaji sirupy, ktoré majú v názve šikovne napísané ,,maple,, alebo ,,original  canadian  syrup,, a pritom javorový sirup vôbec neobsahujú. V USA sa pripravuje zákon, ktorý označovanie falošného sirupu názvom ,,maple syrup,, teda javorový sirup, postihuje ako trestný čin. Sirupov je viac druhov . Light , Medium , Amber , ktorý je najlepší ? Najlepší je presne ten ktorý Vám najviac chutí. Označovanie jedného druhu sirupu ( hlavne Light , Canada n ° 1 , Grade A ) ako niečo kvalitnejšie, je len ,,šikovný,, marketingový trik, ako predať to čo má obchodník práve na sklade … Prečo? Pretože druhy sirupu nevyrába človek, ale produkuje ich samotná príroda, teda strom. Najskôr sa zo stromu zbiera miazga na Light, potom ide Medium a na záver najsilnejší Amber. Obsah živín a minerálov je takmer rovnaký, sirupy sa líšia len farbou, hustotou a silou javorovej chuti. Najjemnejší je Light a najsilnejší Amber. Rozdiel je teda len v chuti a asi taký, ako keď si dáte z jedného stromu jablko viac dozreté a teda chutí viac ,,jablkovo,, ako druhé 🙂 Čo znamená že je sirup BIO ? Všetky naše sirupy sú čisté 100 % javorové sirupy tzv. ,,100 % pure maple syrup,, . Názov BIO znamená navyše to, že pri celej produkcii sirupu, od starostlivosti o javorové stromy až po balenie sirupu, sú dodržiavané prísne ekologické postupy ,,Bio výroby,, ktoré kontroluje medzinárodná spoločnosť EcoCert, ktorá týmto výrobkom udeľuje certifikát Organic Bio produkt. Aké balenie zvoliť ? Sklo alebo plast , 250 ml alebo 4 litre ? Domácnosti kde sirup používa bežne celá rodina, alebo ľudia užívajúci ho pravidelne, na chudnutie, detoxikáciu alebo ako liek volia najviac plastový džbán 1 až 4 litre, pretože je to nerozbitný, praktický džbánok z kvalitného materiálu vyrobený v Kanade a cenovo sa viac oplatí väčšie balenie. Elegantné balenie v skle 250 ml alebo 750ml, volia skôr zákazníci , ktorí sirup ešte len skúšajú, alebo ho kupujú pre niekoho, ako chutný a originálny darček, v darčekových fľašiach v tvare javorového listu . A čo ďalšie produkty ako javorové želé, karamel, cukor, maslo, cukríky ? Všetky produkty sú v základe z javorového sirupu a líšia sa len spôsobom výroby aby mali zodpovedajúcu konzistenciu. Podľa typu výrobku tiež pridaním mlieka, ovocia alebo karamelizovaním.